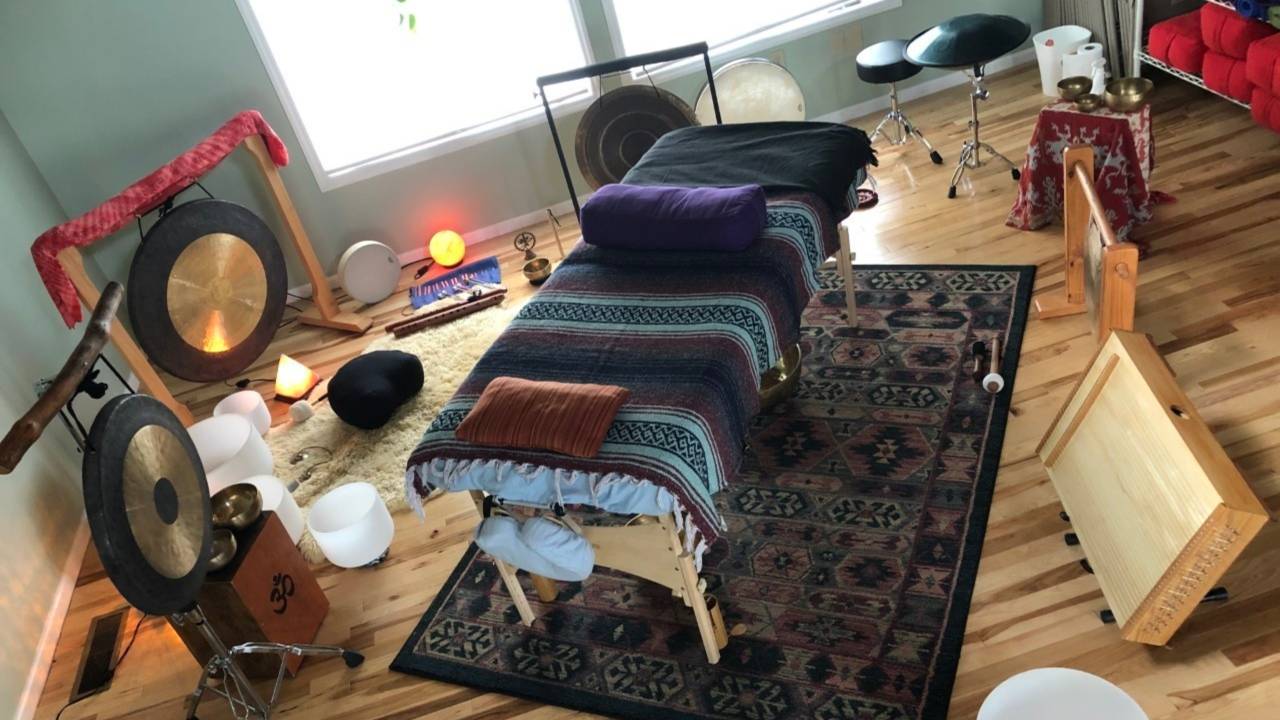 Level 1 Foundations Of Integral Sound Healing
3 Day Workshop - Asheville, North Carolina, USA 
Friday 19th - Sunday 21st April 2024
---
9:00am to 6:00pm each day
With Teacher Eric Lindstrom
---
The Center for Art and Spirit at St. George's, 1 School Road, Asheville, NC, 28806
Super

Early Bird Discount - Save $109
Book the Full Certified Course before 29th December 2023 for $611 USD instead of $720 USD
Early Bird Discount - Save

$51
Book the Full Certified Course from 2th December 2023 until 4th March 2024 for $669 USD instead of $720 USD
Learn how to offer sound healing with healing sounds!
Our world-class, intensive workshop and online learning centre provide:
1. An introduction to the Science, Art & Alchemy of our unique Integral Sound Healing process
2. The foundational knowledge, skills and techniques for working with 6 main instruments for sound healing:
Himalayan/Tibetan Singing Bowls
Crystal Singing Bowls 
Tuning Forks 
Drums & Percussion
Gongs
Your Healing Voice
How to bring it all together for:
Personal self-care and spiritual evolution

1 to 1 sound healing sessions

Small group 'sound bath' healing sessions
Course Details
Dates: Friday 19th - Sunday 21st April 2024
---
Times: 9:00 am to 6:00 pm each day
---
Location: The Center for Art and Spirit at St. George's, 1 School Road, Asheville, NC, 28806

---
Our unique Integral Sound Healing method is a powerful process that can help you deal effectively with a health, relationship or life challenge that you may be facing.  
On this Level 1 Workshop, you'll get an experience of our unique integral sound healing method!
You will also learn foundational skills to help others in your life that you care about: your family and friends.
About The Venue
The Center for Art and Spirit at St. George's, 1 School Road, Asheville, NC, 28806
The Center for Art and Spirit at St. George began in 2013 and provides sacred space for our community and region. We strive to be inclusive of various faith traditions, systems of knowing, and ways of reaching for the divine. We assert that recovery, music, visual art, movement, dance, education, and meditation, as well as fostering relationships between religions and being companions along the way, can all be holy activities.
The venue is located in West Asheville.  West Asheville is a hub for the creative and alternative scene in Asheville.  Near the venue is Haywood Road where there are funky shops, some of the best local restaurants, tea houses, coffee shops and music venues.
Workshop Only Option
SAVE $280!
Our courses also all have a 'Workshop Only' option.
With this option, you will participate fully in everything during the workshop. You will not get access to any online learning resources or ongoing tutoring and support. You are also not required to do any home study or practice before or after the workshop.
The workshop-only option is ideal for:
People who want to enjoy learning and practicing sound healing skills and techniques without committing to extra home study
Online students who want the 'workshop experience'
The workshop-only option also enables you to:
Get a full workshop, hands-on experience with the joy and personal transformation that comes with it
Get personal feedback on your progress with learning sound healing skills and techniques during the workshop

Connect with like-minded people in a sacred space

Save $280 on the full certified workshop course

Upgrade to the full certified version if you want during or after the workshop
Integral Sound Healing & Working with Tibetan Singing Bowls
Working with Crystal Singing Bowls & Tuning Forks in Sound Healing
Drums & Percussion for healing / Introduction to Gongs
Working with your Healing Voice for Health & Wellness
WHAT YOU NEED TO DO AND THE TIMEFRAME (FULL CERTIFIED COURSE ONLY)
WHAT YOU WILL GET (FULL CERTIFIED COURSE)
WHAT YOU WILL GET (WORKSHOP ONLY)
ONLINE COURSE CONTENT (FULL CERTIFIED COURSE ONLY)
Course Fee
Certified Course: 4-day Workshop + Online Learning Centre + Coaching & Mentoring + Assessment & Certificate
Super Early Bird: $611 USD (deposit $183.50 USD) available before 29th December 2023
Early Bird: $669.00 USD (deposit $200.50 USD) available from 29th December 2023 until 4th March 2024
Full Price: $720 USD ($216 USD deposit) from 5th March 2024
Workshop Only Price: $440 USD ($132 USD deposit)
For further information, please contact us at [email protected]
Alternatively, please contact [email protected]
There are a limited number of places available, and this workshop is likely to sell out.
Secure your place to avoid being disappointed later. Click one of the buttons below to book:
About Your Teacher: Eric Lindstrom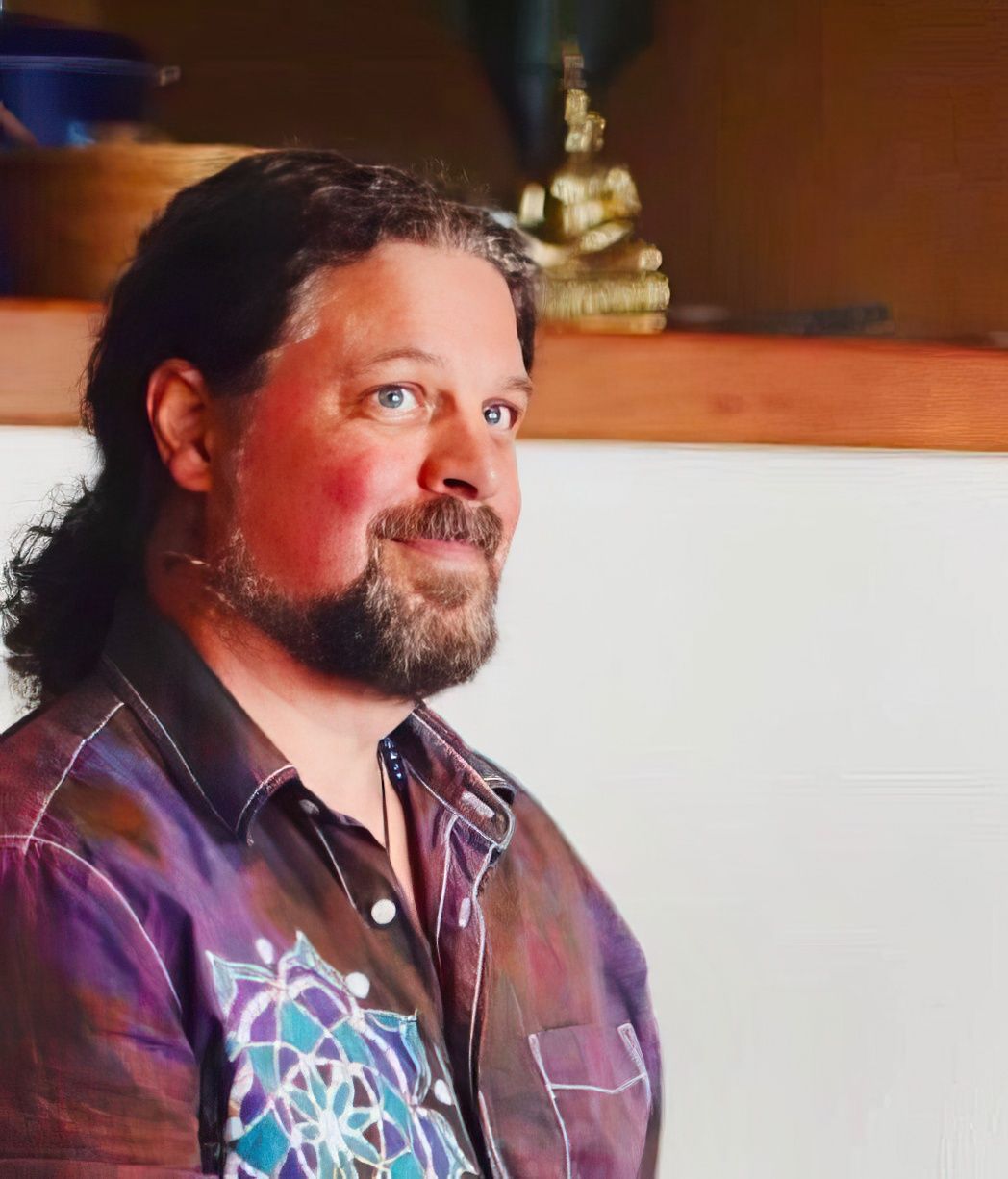 Eric Lindstrom is a certified practitioner through SHA, a professional chef, a permaculturist and professional multi-instrumental musician since 1990. Having spent years on the road and playing in a variety of venues including the Fox Theatre in Atlanta and headlining the Georgia Theater in Athens, he currently prefers the serenity of yoga studios and wellness centers to guide individuals and groups into deep healing relaxation and soothing vibrational currents.
Eric holds a B.A. in Anthropology with a focus on The Power of Sound and Cultural Healing Practices from the University of Georgia. 
Eric has taught music lessons and led workshops over the years to individuals and groups. His SHA journey began in 2018 and he is honored to continue this path through teaching and supporting others. 
He feels deeply influenced and guided to the sound healing path by the vibrations and cultural immersion of his childhood time in Thailand, Bhutan, Nepal, Tibet and India. His time living abroad in Southeast Asia has also encouraged spiritual inquiry and development of a relationship with the Divine.
When he's not playing music and recording in his studio, Eric can be found in his garden, chasing after his toddler, hiking in the forest and making dinner for everyone. He lives in traditional Cherokee lands known as Western North Carolina with his wife, daughter, 6 hens and a cat.